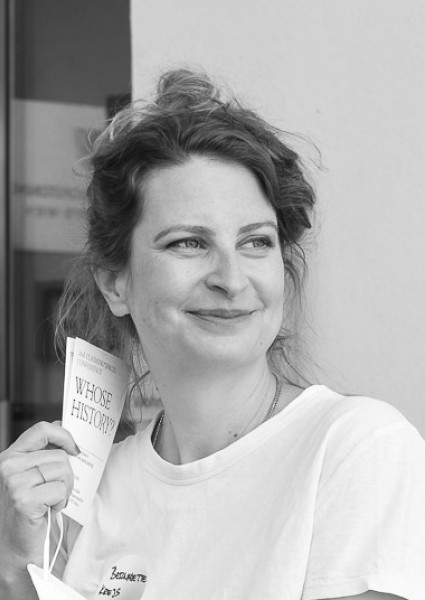 Bernadette Krejs
Dipl.-Ing. Dr.in techn.
Univ. Ass. (PostDoc)
Current Courses
Bernadette Krejs is an architect and researcher currently based at Vienna University of Technology, Research Unit of Housing and Design. Her work moves in a transdisciplinary research field between architecture, housing and visual culture. She holds a PhD in Architecture and her dissertation (Architecture as Image, 2022) deals with media representation of housing through digital platforms and a counter-hegemonic image production in the field of architecture. In her research-led design and teaching, she critically engages with various aesthetic practices as well as politics inscribed within them. Krejs works on various research projects in the field of spatial production (Diskursraum Wohnbau Wien (2019 - 2021), Intensified Density (2017)). She is co-editor of the books Mapping the Croatian Coast - A Road Trip to Architectural Legacies of Cold War and Tourism Boom (2020) and Cartography of Smallness - Learning from Japan (2018), as well as co-guest editor of ARCH+ 244: WIEN: Das Ende des Wohnbaus (als Typologie) (2021) which was awarded with the Bruno-Kreisky Prize. Her work has been published in various exhibitions and books (On Ideals of the Home - How We Fell (in Love) with Digital Image Worlds, PLATFORM AUSTRIA - La Biennale di Venezia, 2021). As co-founder of the ClaimingSpaces collective she addresses issues of a feminist, intersectional knowledge production in architectural pedagogy and co-conceived international conferences in this context (WHOSE HISTORY?, 2022). She gives lectures (MAGAZIN - Space for Contemporary Architecture, 2022) and speaks at conferences (Missing Words, Research Festival Design Academy Eindhoven, 2022 / Mariann Steegmann Institute Art & Gender, University of Bremen, 2021). Since 2022 she is a LINA Fellow with the project Palace of Un/Learning.